Gear Abilities (or Abilities) are special attributes given to Gear.
Description
There are two categories of abilities: Primary and Secondary.
Primary abilities are indicated by the large icon always present on a piece of gear and is either a Non-stackable boost like Stealth Jump, or a larger value stackable boost like Damage Up.
Secondary abilities are randomly generated stackable abilities and must be unlocked by gaining experience through playing matches. A secondary ability's value is around 1/3 that of the same primary ability. EX: Damage Up as a Primary ability adds ~9% damage to your weapon's hits, and a secondary Damage Up adds ~3%. Crusty Sean's drinks can also increase the chance of getting a specific ability to 1.5%.
Some abilities that stack also depreciate in value the more you stack them. EX: The first Damage Up Primary applied gives a 9% damage boost, but 2 give ~8.25% each, and 3 give ~ 7.45% each. The number of Secondary abilities a piece of inherent to a piece of gear is indicated by its Star Count.
There are a total of 24 abilities on the game, 13 stackable and 11 non-stackable. Non-stackable abilities can only be obtained as a Primary ability from gear while stackable ones can be obtained as Primary and Secondary abilities.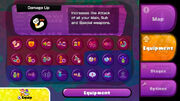 Usage
Extra Secondary ability slots can be unlocked by giving Spyke a Super Sea Snail or paying 30,000 coins for him to use one of his own. It is also possible to reroll a piece of gear's secondary abilities all at once for the same price.
List of Abilities
Icon

Ability

An * Indicates Diminishing Returns when Stacked

Buff
Stackable / Non-Stackable
Brands

*Ink Saver (Main)

Reduces the amount of ink consumed by your Main weapon.

Primary Ability Boost = +20%

Stackable
Higher Chance:

Splash Mob

Lower Chance: Squid Force

Ink Saver (Sub)

Reduces the amount of ink consumed by your Sub weapon.

Primary Ability Boost = ~6.667%

Stackable
HC: Fire Fin

LC: Forge

*Special Charge Up

Increases Special Gauge recharge rate.

Primary Ability Boost = 10%

Stackable
HC: Takoroka

LC: Zekko

Special Duration Up

Increases usage time of Special weapons.

Primary Ability Boost = ~1 second

Sub Ability Boost = ~.2 second

Stackable
HC: Forge

LC: Takoroka

Ink Recovery Up

Increases Ink tank refill rate while submerged in Squid form.

Primary Ability Boost = ~.3 second

Stackable
HC: Tentatek

LC: FireFin

Quick Respawn

Decreases respawn time after getting splatted.

Splat respawn time is 8.5 seconds, death by water time is 5.5 seconds.

Stackable
HC: Scalop

LC; Zink

*Special Saver

Reduces the amount your Special Gauge decreases after getting splatted.

Primary Ability boost = 15%

Stackable
HC: Zekko

LC: Scallop

Annaki

Haunt
Reveals the position of any player who splats you to your team for a short while.
Non-Stackable
None

Comeback

Boosts many abilities for 20 sec after respawning:

+ 16.3% Main ink efficiency

+ 12.5% Secondary ink efficiency

+ 14% Run speed boost

+ 6% Squid speed boost

Suspected damage boost,defense boost, and special recharge boost, but have not been determined yet.

Non-Stackable
None

Bomb Range Up

Bombs, Point Sensors and Disruptors travel further when thrown.

Stackable
None

Tenacity
Fills special gauge automatically if your team has fewer active players than the enemy at any time.
Non-Stackable
None

Run Speed Up

Increases movement speed while in Inkling form.

Primary Ability Boost = ~13%

Stackable
HC: Rockenberg

Swim Speed Up

Increases movement speed while in Squid form.

Primary Ability Boost = ~13%

Kraken form is 20% slower than squid form and gets 1/2 the boost in speed of this ability.




Stackable
HC: Krak-On

LC: Rockenberg

*Quick Super Jump

Makes your Super Jumps faster.

Primary Ability Boost = ~12.3%

Stackable
HC: Zink

LC: Tentetek

Stealth Jump

Hides your Super Jump landing points, but also makes your Super Jump slightly slower.

Normal jumps take ~4.1 seconds, jumps now take ~4.9 seconds, or are about ~20% longer.

Non-Stackable
None

Ninja Squid

Leaves no trace while swimming on inked ground, but reduces swim speed slightly: 20% speed reduction in squid form, 10% speed reduction in Kraken Form.

Non-Stackable
None

Recon
Allows you to see the opposing team on your map while standing on your spawn point.
Non-Stackable
None

Opening Gambit
Boosts your speed in both Inkling and Squid form by 20% for the first 30 seconds of battle.
Non-Stackable
None

Last-Ditch Effort
Boosts ink recovery rate and weapon ink efficiency for the last 30 seconds of the match.
Non-Stackable
None

Ink Resistance Up

Reduces damage and movement penalties incurred when moving through enemy ink.

Max damage in enemy ink reduced 50%, movement penalty reduced from ~90% penalty to ~20-30%

Non-Stackable
HC: None

LC: Enperry

*Defense Up

Reduces damage taken from all attacks.

Primary Ability Boost = 6%

Stackable
HC: Inkline

LC: Krak-On

*Damage Up

Increases the Attack of all your Main, Sub and Special weapons.

Primary Ability Boost = ~9%

Stackable
HC: Squid Force

LC: Inkline

Cold-Blooded
Shortens the effect of attacks that let enemies track your position by 80%
Non-Stackable
HC: Annaki

LC: Inkline

Bomb Sniffer
Clearly identifies all traps and bombs placed by your opponent, even if offscreen.
Non-Stackable
None