The Arcade Machine can be found just across from the Booyah Base in Inkopolis Plaza. This allows the player the access the different 8-bit mini-games in Splatoon.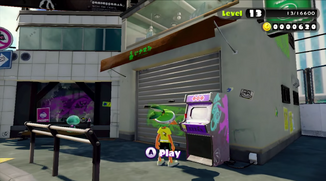 These mini-games can also be played on the GamePad while waiting for online matches to start. When the match does start, your current progress in the mini-game is saved automatically, and can be continued the next time you're waiting for a game to start, although it seems that it resets progress once you quit Splatoon. Squid Jump is the only mini-game that will be accessible from the start. All the others are accessed by completing all the challenges on the Amiibo figures.
Games

The Arcade Machine features four different mini-games in total, with all the Amiibo challenges completed.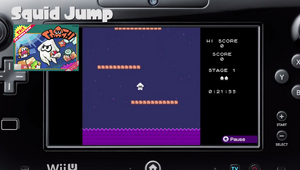 Squid Jump
Squid Jump is the first of these games, and was the only game playable in the Splatoon Global Testfire.
This game has the player make a squid jump from platform to platform, holding down the ZR button for longer to get a higher jump. To prevent the player from staying still for too long, some purple ink will chase them after a certain amount of time. As the levels progress, more challenges are added like slippery ice platforms, moving cloud platforms, and conveyor belts.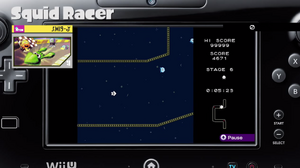 Squid Racer
Squid Racer is a race between you, the white squid, and your blue jellyfish foes. The aim is the reach the end of the map first, presumably avoiding touching the jellyfish and the sides of the stage. Squid Racer is received as a reward for beating the Ravenous Octomaw during the Inkling Boy's amiibo challenge.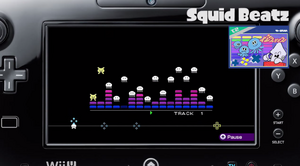 Squid Beatz
Squid Beatz plays like a standard rhythm game. The player will have to press the button represented on the line at the bottom at the correct time to rack up a high score. The music in this game is from in-game levels from Splatoon. Squid Beatz is received as a reward for beating the Ravenous Octomaw during the Inkling Squid's amiibo challenge.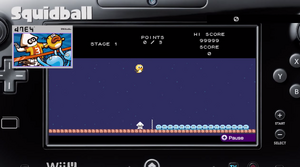 Squid Ball
In Squid Ball the player will have to keep a falling Zapfish in the air. Once the placement is right, the player can launch the Zapfish at some jellyfish on the other side of a net, like Volleyball. Except instead of the "ball" being reflected, the jellyfish will be knocked over. Doing this gives you points. Squid Ball is received as a reward for beating the Ravenous Octomaw during Inkling Girl's amiibo challenge.
Trivia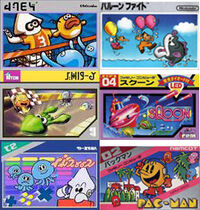 The box art for each game parodies boxart designs from Famicom games. Squid Racer's boxart is based on Irem's titles, Squid Beats' is based on Namco/Namcot's titles, and Squid Ball's is based on Nintendo's early-era Famicom games.
The squid found in all three games are white, however, squids in this game are never protrayed as white out of the games.
Community content is available under
CC-BY-SA
unless otherwise noted.