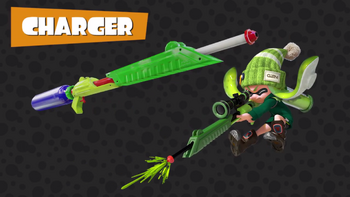 The Charger is one of seven Main Weapons available. 
It's a ranged weapon that excels in taking down players from afar.
Each shot needs to be charged. The longer it's charged, the more powerful the shot becomes. When charged 75-100%, it will kill in one shot. This makes the Charger a slow weapon, but it's balanced by superior range and high damage potential. The Charger can paint a long line straight in front of it.
Only direct shots will damage opponents. Falling paint does little damage and can't finish off an enemy
These weapons sometimes feature a Scope, giving them more range in return for less visibility and a slightly longer charge time
Weapon Comparison
*Requires Sunken Scroll from Octo Valley
**Downloadable Content
***Requires Amiibo
****Upcoming DLC
Trending pages
All items (23)
Community content is available under
CC-BY-SA
unless otherwise noted.