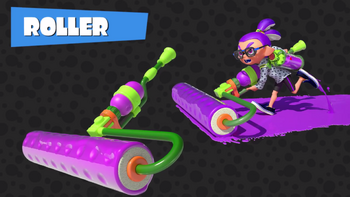 The Roller is one of five 
Main Weapons
 available. 
It's a short-range weapon that excels in painting large areas with ink. 
Rollers spread a trail of ink beneath and behind the player. By tapping the attack button the player can splash ink directly in front of them, however doing this slows down the player. It has a very short range.
There are currently two types of Roller weapons in the game - Rollers and Brushes.
Rollers leave a wide trail of ink and can inflict massive damage by splashing or simply rolling over enemies, but are bad at covering walls and slopes. An example of a roller is the Splat Roller
Brushes leave a thin trail of ink and are significantly weaker than the Roller. However, while painting the player runs as fast as they would swim in ink, and the weapon's splashing feature is vastly improved. An example of a brush is the Inkbrush
Weapon Comparison
*Requires Sunken Scroll from Octo Valley
**Downloadable Content
***Requires Amiibo
****Upcoming DLC
Gallery
Trending pages
All items (14)