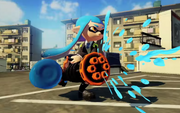 The Splatling is one of five Main Weapons available. 
This weapon is known as the Splatling and is based off the Gatling gun. It has several barrels allowing for a higher rate of fire. It is comparable to chargers, because it's a weapon that must be charged. Like the chargers, they can be charge slightly  and released but will lack strength and range.  However unlike chargers, Splatlings actually are able to charge twice, the first charge increases the weapon's range while the second much faster charge increases the duration the the weapon's firing capability. The Mini Splatling is the most mobile and has the shortest charging time, while the Hydra Splatling has the longest range and longest firing time
Weapon Comparison
**Downloadable Content
****Upcoming DLC
Trending pages
All items (11)
Community content is available under
CC-BY-SA
unless otherwise noted.