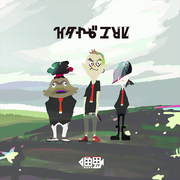 Hightide Era is a three-man rock piano band in Inkopolis. They've seen a recent surge in popularity with Inkling youth, bringing with them their debut song Hooked.
"The band name Hightide Era refers to both the full and brimming nature of the group's sound, and also the ecological realities of the world they live in. Let's not worry too much about whether Inklings actually understand English or not, 'kay? Kay."
-Splatoon's Tumblr page
Members
???
???
???
Songs
Trivia
Their debut song, Hooked, made its first appearance in Japan's August update trailer.
Hightide Era appear to be the first known music group to not have any Inklings as a member, they all appear to be variants of fish.
Characters

in the

Splatoon Series