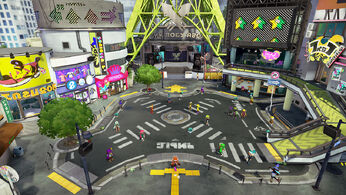 Inkopolis Plaza (Japanese: ハイカラシティ広場 Haikara City Hiroba) is the hub world in Splatoon. From here, players can access various types of modes and shops as well as interacting with other player Inklings in the plaza via Miiverse. It is the heart of Inkopolis, where the Inklings live.
Appearance
The plaza is in the shape of a square with a huge sidewalk and different shops to the side. At the far back is Inkopolis Tower, a building which players can enter to access the Regular Battle and Ranked Battle game modes.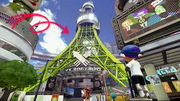 To the left of the main entrance is Booyah Base, a mall in which the player can buy clothing and weapons. The stores in this mall are Ammo Knights (a weapon shop), Cooler Heads (a headgear shop), Jelly Fresh (a clothing shop, specializing in tops), and Shrimp Kicks (a shoe store). Each shop has a charismatic Shop Keeper, each one representing a different type of sea creature; they are Sheldon, Annie (and Moe), Jelonzo, and Crusty Sean, respectively.
There is also a manhole in the far right corner, where Hero Mode can be accessed. Other areas include an alleyway (to the right of the manhole, and headed by a blue vending machine) where Spyke can be found, the Arcade Machine to the left of Booyah Base, and the Amiibo area which can be found towards the back right.
On the second floor, the Battle Dojo can be accessed, and Inklings can get a closer look at the studio of the Squid Sisters.
After competing with or against other Inklings online, their Inklings will temporarily appear in the player's plaza. The player can then see the gear they used and order any items they may want. Ordered gear can be collected from Spyke. Weapons cannot be ordered.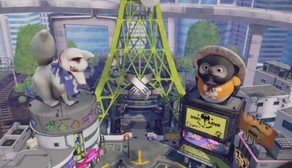 From above, Inkopolis Plaza features two large statues: a Tanuki and a Kitsune, two well-known Japanese mythological creatures. The Kitsune is on top of Booyah Base whereas the Tanuki is on top of the studio of the Squid Sisters.
Trivia
 The layout and design of Inkopolis is based on the city of Shibuya in Tokyo, Japan, particularily Shibuya Crossing.
It is possible to get out of the plaza with a glitch through the wall. (This is possible and has been done before)
During Splatfest, it was set to night-time, and decorated with the colors of the teams of each respective Splatfest.
In the sixteenth Splatfest in Splatoon 2, Marina exclaims that Inkopolis Plaza is a ghost town when Pearl claims to sneak off to play old arcade machines there some days.
Gallery
See also