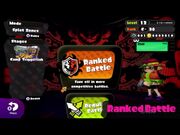 Modes
(Japanese:
モード
Mōdo / Modes
) in
Splatoon
are different types of gameplay that can be accessed by players at different levels.
Hero Mode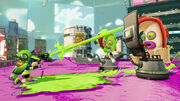 Hero Mode is available to players of all levels, and can be played offline.
Regular Battle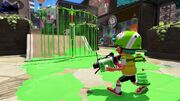 Regular Battle is available to players of all levels.
Current
Private Battle
Private Battle is a mode where you can create and secure the lobby for yourselves, and invite your friends to join the battle.
Squad Battle
Squad Battle is a mode where players can participate in Ranked Battle rule sets with friends, rather than being teamed up with other players through a random selection.
Twin Squad Battle: You can recruit a friend to form a team of two. Friends will always play on the same team with another (random) two player team, battling other squads.
Quad Squad Battle: You can recruit three friends to form a team of four. Friends will always play on the same team, battling against another squad.
Tri Squad Battle: This mode allows three player teams to battle against four player squads at random.  It is recommended for skilled players.
Ranked Battle
Ranked Battle is unlocked once the player has reached level 10. The ranked battle modes require a higher level of strategy compared to turf war, and wins and losses will be counted toward players' ranks. Players begin with a 'C-' rating, but are able to improve and regress their ranks based on how well they perform.
Current
Splat Zones: A mode in which two teams try to cover a boxed area of the map in their ink.  Holding all zones reduces your team's timer, with a penalty for losing all zones to your opponents.  First to zero or the lowest timer at five minutes wins.
Tower Control: A mode where two teams race to a central tower. When they stand on top of it, the tower slowly moves toward enemy territory.  The team that pushes the tower farthest to their goal wins.
Rainmaker: A mode where two teams race to get ahold of the Rainmaker, a weapon capable of firing ink tornadoes (think unlimited, chargable Inkzooka). The goal is to take the Rainmaker to the goal pillar at your enemy's base. Whoever pushes places the Rainmaker upon the goal or gets closest in five minutes wins.
Battle Dojo
Battle Dojo: A local 2-player mode, with one player using the Gamepad and its screen and the other using a Wii U Pro Controller, Wii Classic Controller, or Wii Classic Controller Pro and the TV screen. Both players must attempt to pop balloons to reach 30 points. If the timer runs out before one player has reached 30 points, whoever has the most wins.
League Battle
League Battle is a mode that you can unlock by reaching rank B- in any Ranked Battle mode (Rainmaker, Splat Zones, Tower Control, Clam Blitz). After that, you can team up with four or two people to take on the league, where you either join someone, or start a room. You still have the same modes (Rainmaker, Clam Blitz, etc.).
Salmon Run
Gallery
Community content is available under
CC-BY-SA
unless otherwise noted.