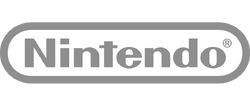 Nintendo Co., Ltd.
 (任天堂株式会社 
Nintendō Kabushiki gaisha
?
) is a Japanese multinational consumer electronics company headquartered in Kyoto, Japan. Nintendo is the world's largest video game company by revenue.
The name Nintendo (任天堂) is often translated from Japanese to English as "leave luck to heaven", though from a historical standpoint, it may also simply mean "the company that sells hanafuda [a traditional playing card game]". They are the creators of the much praised upon video games, Splatoon and Splatoon 2.
History
Founded on September 23, 1889 by Fusajiro Yamauchi, it originally produced handmade hanafuda playing cards. By 1963, the company had tried several small niche businesses, such as cab services and love hotels.
Abandoning previous ventures in favor of toys in the 1960s, Nintendo then developed into a video game company in the 1970s, ultimately becoming one of the most influential in the industry and Japan's third most valuable listed company with a market value of over US$85 billion. Nintendo of America is also the majority owner of the Seattle Mariners Major League Baseball team. Nintendo's current president is Satoru Iwata.
As of March 31, 2014, Nintendo reports historically cumulative sales of over 670.43 million hardware units and 4.23 billion software units.
Some of Nintendo's most famous franchises include Mario, Zelda, and Metroid.
Nintendo developed Splatoon from 2013 to 2014, and released it on 28-30 May 2015. The game's sequel, Splatoon 2, will be released on 21 July 2017.
Devices produced by Nintendo
Trivia
At one point during its development, Splatoon was originally planned as a spin-off of the Mario games.
Even though the Inklings are similar to the Bloopers of the Mario games (in that both of them are based on squids), the creators of Splatoon did not intend any relationship between them during the production of Splatoon.
The Inklings, the main characters of Splatoon, also appear in another Nintendo video game, Mario Kart 8 Deluxe.